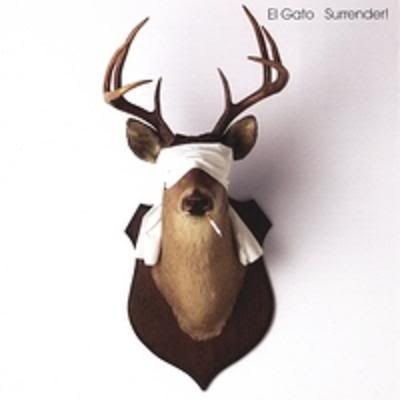 I started this in October and then forgot all about it. I thought it was a good time to pick back up.

For my return, I've decided to go with another little Texas band. Well, the singer moved to San Diego and the rest of the band still lives in Denton (living room 2,000lbs), so mostly Texas band.

Surrender! is El Gato's second full length album. It was recorded by David McConnell, who has worked with Wilco and Elliott Smith.

It should come as no surprise then that they have a passing similarity to mid-career Wilco. And if you are familiar with The Thrills, you might draw comparisons there as well. I'll also add that there are dashes of Modest Mouse here and there...or more appropriately Ugly Casanova (there is a moment when vocalist/songwriter John Vineyard sings the word "piano" and it almost sounds like a sample from UG's "Things I Can't Remember").

This sounds exactly like what you would have liked to have had on hand that time in college you confessed your undying love in an email to your crush and were awaiting a reply.

The album is at times desperate; clinging to a love that is walking out that door, and other times hopeful that open-hearted exposition will save the day. But in the end it's the freedom gained by letting go that wins out.

And though each of these songs are strong enough to stand on their own, taken as a song cycle they tell the story of a man learning to say goodbye. "Scorpions in Your Shoes" lets us in as the cracks emerge, "Bangin on Doors" bares the good intentions of one who means to hold on to love, and though "Killing Glaciers" portrays our hero as the one declaring that "it's not enough", closing track "Untitled (I Blame You)" reveals him to be the one left behind with no other choice but to "lift [his] cup and toast to your happiness". And this is a story with which we're all perhaps uncomfortably familiar.

Try it out and if you like it, which you should or you're a total dick, you can buy it through CD Baby, download it from eMusic, do what I did and pick it up at Waterloo in Austin, or buy it through their myspace (link below).