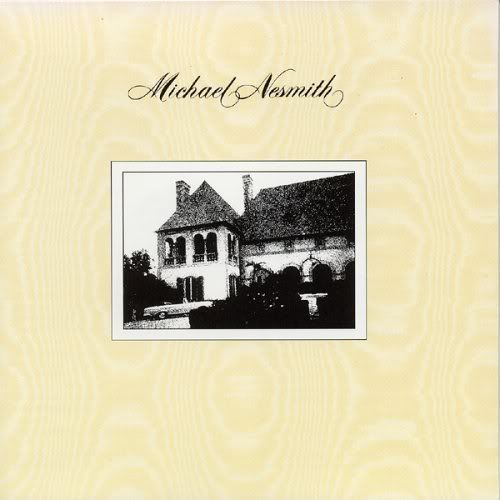 When I was a kid watching The Monkees on 20Vision, I had decided that Mickey was my favorite...he was the funny one. As I got older, I gained an appreciation for Mike. He was funny too, but it was understated. His sense of humor more low key, less obvious. Watch him and you would hear the snarky remarks and the subtle satire that Dolenz was just not capable of.

But there is so much more to Michael Nesmith than being my favorite Monkee. His mother invented white-out, he invented MTV, Gretsch made him a custom 12-string guitar, he wrote "Mary Mary", and he wrote "Different Drum". He was the real talent in a fake band and I do not question his choice not to return when The Monkees (lamely) reunited.

And the Hits Just Keep on Comin' was released in 1972 after four lackluster attempts made for RCA. When the label demanded a hit album Nesmith came up with the name. Having parted ways with his band he was left with only pedal steel guitarist Red Rhodes. Working with what he had, this album features nothing more than acoustic guitar, pedal steel, and Nesmith's unmistakable twang. This results in 10 heart-melting tails of love and hope.

So what he have here is a country-folk album with touches of psychedelic lyricism.

And what I have is my idea of starting off on the right foot.

There's no deliberate sequence to these songs, no story to be told. This is a collection of very nice songs that aren't going to rock you but leave you feeling like you're holding hands with someone pretty while you dip your feet in the water of Marble Falls.

Here and there you'll hear similarities to Dylan's phrasing, which I believe purely unintentional, but welcome none-the-less. "Lady Love" illustrates how deceptively big of a sound you can get with only two musicians. "The Candidate" finds Nesmith channeling Phil Ochs until the eerie psychedelic fade-out. This is followed up by his recording of "Different Drum", though originally recorded by Linda Ronstadt, it was written by Nesmith. "Harmony Constant" maybe very well be one of the sweetest songs I've ever heard.

"Keep On" is as rollicking as the album gets but is sweet and reaffirming. In this song Nesmith lays out what is probably most important in the hearts of any true artist "number good is better than number one". And though he advises the listener to "consider the source and ignore it". There's no way you can considering that Michael Nesmith was in the prefab Monkees, designed solely to make "number ones" and at the time of this recording he was a struggling solo artist making perhaps the best music of his career. Dude knows what he's talking about.

Just go ahead and try it out. You can download it from iTunes, but you're gonna have a heck of a time finding a physical copy anywhere other than Nesmith's Videoranch website.