By now we all know the story of December the 14th. The day that our beloved ice cream troubadour was sunk into a world of pain that only two tons of steel and fiberglass can deliver.
Here's the story of December the 27th, the night that Houston proved that Airon wasn't the only Southern Angel in town. Folks turned out en masse to check out the stellar line up, win big in the awesome raffles and to give, give, give and give some more.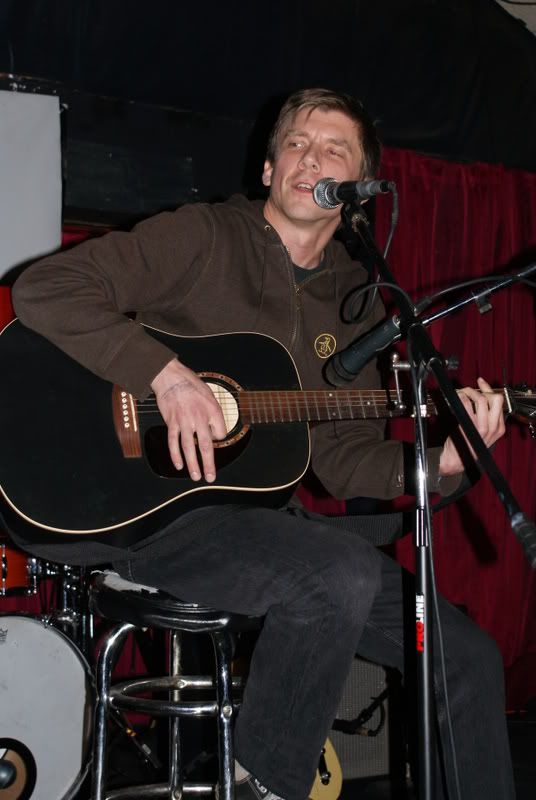 Butch


Ain't no one that don't know Butch. As front man for Houston instituion, nay,
tradition, 30footFALL, Butch has been making a mark on young show goers for 2 decades. Recently, Butch has been making the rounds as a singer-songwriter of the country-folk variety. Mixing covers and originals, his performances are compelling and heartfelt. He opened the show up with a perfect tribute to the Man of the Hour.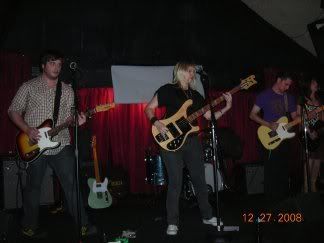 Guitars - picture by Megan Fraser of Boston, MA
I would be a special kind of asshole to comment on the performance of my own band, so I'll leave it at this: It was an honor and a privilege to be a part of this benefit.
Wild Moccasins
Houston's own sugarcoated sons (and daughter) of indie rock, Wild Moccasins proved once again that they embody the big changes this city is facing in 2009. Real musicians playing real music injected with so much love that it's contagious. KEEP. IT. UP.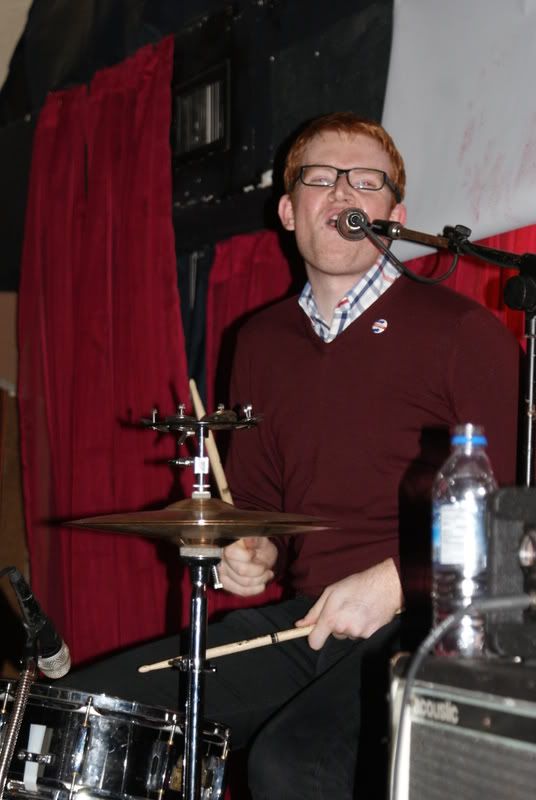 John Baldwin of Teenage Kicks
It seems like Teenage Kicks play every show that I ended up reviewing. How lucky am I? These guys are a treat for the eyes and ears and are also surfing that big ol' wave of new blood that's crashing on the shores of our city's stages. By all means, be good to yourself, be into this band.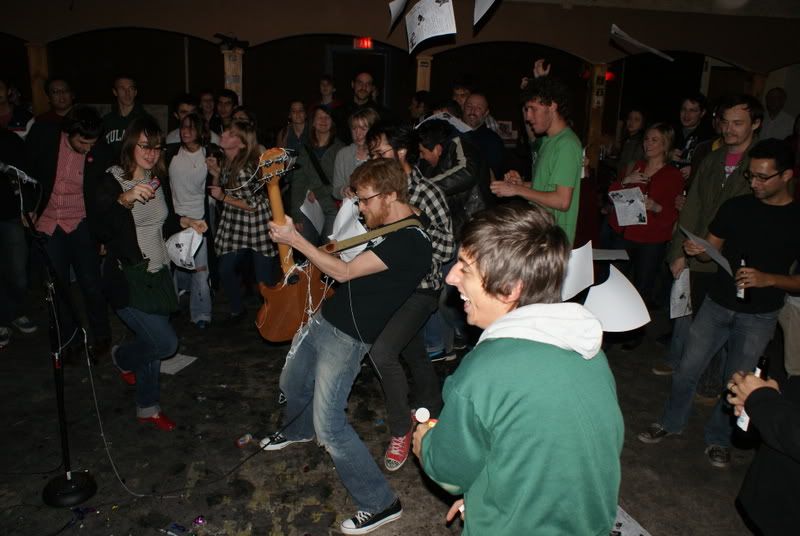 Ted Conway of Friendship (big "F") awash in a sea of friendship (little "f")
The main attraction of the night was far and away the reunion set of Friendship (unfortunately, sans Garrett Arnold). Bodies thrashing, clothes flying, sweat spraying, we were all friends for this moment in time.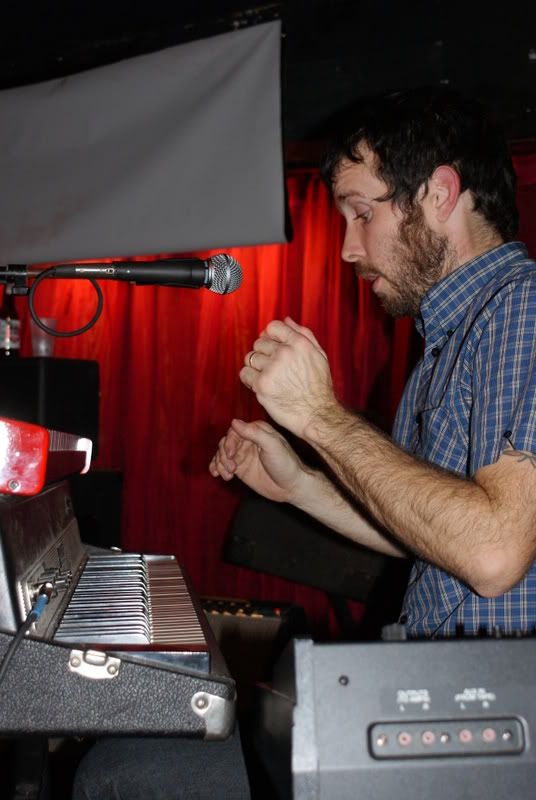 Surprise! You're amazing! Ray Brown of Paris Falls
Perhaps closest to Airon's heart are his would-be backing band and force in their own right, Paris Falls. The trio were a soothing interlude between the frenzied riot of Friendship and the impending aural bloodbath of Dannzig.
Our scene's perennial emcee, JD Tucker
Benefit organizer JD Tucker took the time before Dannzig's set to announce the winners of the raffle prizes. Long story short: I really wanted the $200 gift certificate for tattoo work by Gregg Higgins, I spent a respectable sum on raffle tickets and suffice it to say, I did in fact win said prize. I also won a $200 gift certificate the Apollo, which I gave back to be re-raffled seeing as I don't own a scooter, I also won a Sound Exchange gift certificate, which I kept, and two Amy's Ice Cream gift certificates which I also forfeited to those more needy. Other prizes included a $200 gift certificate to iheartu, an accoustic guitar, gift certificates to Mission Burrito, and I believe Rockin' Robin and Musicwise (I apologize for not remembering exactly). On top of all of this was a badass silent auction featuring among other entertainment artifacts, signed photos of Eddie Murphy, Hulk Hogan, Bob Dylan, and Mick Jagger.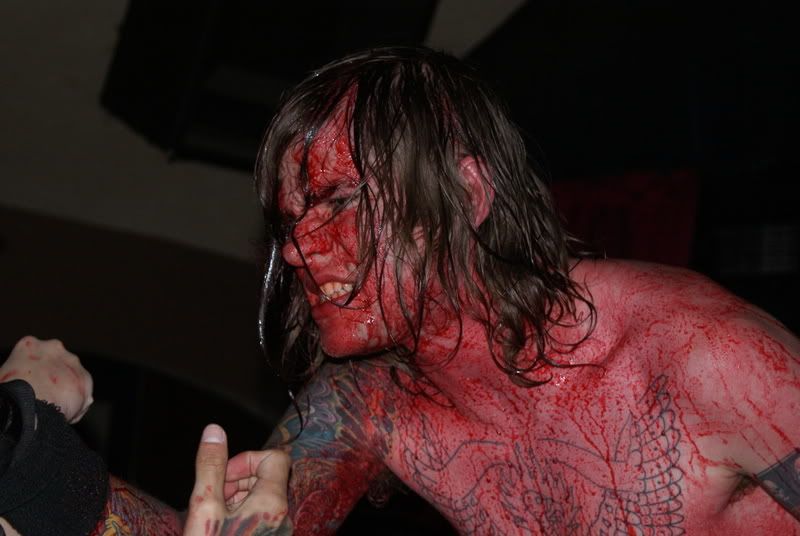 Some Kinda Hate - Dann Miller of Dannzig
Ending the night was the second appearance of good time cover band Dannzig. Dann Miller's Glenn Danzig is insanely spot-on, and have quiet possibly earned the crown as the best Misfits/Samhain/Danzig/any combination thereof cover band this town has seen, and we have seen alot.


This benefit was a massive success, bringing in quite a chunk of change for our indisposed friend. And was a giant I love you to a guy to whom we wish the speediest of recoveries.
The rest of the photos can be found HERE.