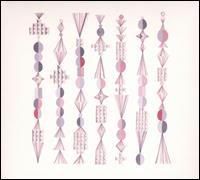 Sometimes a song can create and an entire lifetime that speeds by in only a moment. This is the song you listen to on repeat so you might relive that life over and over. Wolf Parade's Apologies to the Queen Mary is an album full of those songs.

Wolf Parade are from Montreal and were part of 2005's much hyped "Canadian Invasion". Hype is so often a turn off for me when it comes to checking out new bands but upon hearing "I'll Believing in Anything" I bought into the hype 100% and have never looked back.

Apologies to the Queen Mary, Wolf Parade's debut album was produced by Modest Mouse's Isaac Brock. Here and there his touch is evident.

The sound of Wolf Parade is a sort of conglomeration of everything good that had happened up to that point in indie rock history. Guided by Voices, David Bowie, The Pixies, Talking Heads and so many more influential acts blazed the trails that led to this band. And in a not-so-distant future Wolf Parade might be lauded just as highly as their influences. They are no mere copycats, they are innovators, improving upon what is already familiar and creating something new.

Imagine that you have lost your soul mate and on the night before Earth is destroyed you find them. This is the soundtrack to your remaining hours. And as the sun rises, by some miracle, the Earth has been saved.

Apologies begins with "You are a Runner and I am My Father's Son". It reminds me of Pleasure Forever with it's stomping processional feel. Spencer Krug fronts this warning to a potential lover that fate may not have their happiness in store, he may just be predestined to lose. Next is the Dan Boeckner fronted "Modern World", this is more subdued, reminisent of Arcade Fire. Though quite lovely.

"Ground for Divorce" brings to mind a jagged, up-tempo "This Must Be the Place (Naive Melody)", but lyrically it's more about a broken home than going home. Following this is Boeckner's smooth delivery of "We Built Another World" which sounds like a Modest Mouse jam you could dance to.

Just after the halfway point is Boeckner's "Shine a Light", which also makes you feel okay about living a life that feels like it means nothing, after all "our blood is alive". But when what we're waiting for finally arrives it will be that much sweeeter.

For me the highest point of the album is Krug's "I'll Believe in Anything". This is what we've been waiting for to arrive, "the scary day we both pull the tricks out of our sleeves". This is the ultimate proclamation of love: "Give me your eyes, I need sunshine. Your blood, your bones your voice, and your ghost". Seriously, that sums it up. When you love someone that much, you need the things that make them whole. You only put a song this heavy on a mix tape you really mean.

Another song that "means it" is the final track, the Boeckner led "This Heart's On Fire". This is the song you play when you finally find the one and you have them there in your arms. It's true.

This album is available pretty much everywhere. I'd dare say it would be harder to find a music store that doesn't carry it than does.