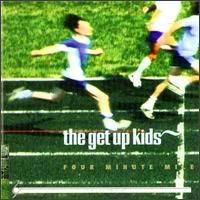 I had a busy week last week and didn't get a chance to post anything, so I'm glad I have a chance to get back to this!
Today's choice is The Get Up Kids'
Four Minute Mile
, another one of those landmarks in my early adulthood (which I suppose I am still in). This album came into my life shortly after a break-up and right as I was figuring out how much fun it was (is?) to be a single girl (seriously, the world belongs to single girls). It's the sound of one-time make outs and going to shows alone. I was in love with the world through the eyes of this album. Unfortunately, TGUK moved away from the purer form of "emo-pop" they embodied toward the soggy "indie/pop" that mutated into the horror that is contemporary emo. So, it suffices to say that the love affair faded away as they released more albums.
The Get Up Kids came together in 1994 and broke up after much success in 2005. They were one of those bands that felt good when they were "yours" and kind of made you sick after they became popular. A lot like Patrick Dempsey's character in
Can't Buy Me Love
, they were lovable as outsiders and a bit too much when they were opening for Green Day (he did that in the movie, right?).
Four Minute Mile
was recorded with Shellac's Bob Weston and was released in the fall of 1997, just in time to save me from becoming an over-grown ska geek.
The Get Up Kids added an "indie rock" flavor to the preexisting "post-hardcore" genre emo, which proved to be a volatile combination. How long could they have made music that was influenced by post-hardcore, yet was sweet and melodic? It was a thin wire they walked, which ironically they had fallen off of by the time they released their 3rd album
On a Wire
. They appealed to the lower common denominator, the pop-punk-mislabeled-as-emo hungry masses.
But for me, this album will always be about change and discovery. Or more accurately, discovering that what you know about yourself will change.
The tracks that really stand out to me are: "Coming Clean", with it's Jawbreaker-esque riffage, "Don't Hate Me", is as poppy as it gets here, "Stay Gold Ponyboy" with it's quick-change breakdown provides the fleeting catchiness of the lyric "anything at all you want to be, run around the world with me" (it's my favorite song on here), and "No Love", with it's hopeful daydreaming; but everything here is solid and gives you all the heartfelt longing for a perfect life you could possibly ask for.
You can get this anywhere and everywhere, so get to it.