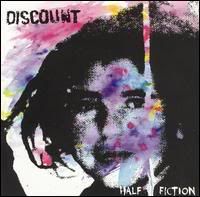 Music from Florida is kind of like Wooderson from
Dazed and Confused
, the bands get older but the fans stay the same age. Fortunately, as there always is, there is an exception to this rule. For the purposes of this post that exception is pop-punk outfit Discount. Members of this band have grown up and formed new bands...bands for grown ups.
But in 1999, Discount's unique style of pop-punk was perfect for me. Now, this album came out in 1997 but at that time I was in the middle of a early-adulthood ska crisis, so it took awhile to pick up on this. Eventhough I was late in the game, I got a chance to see them a couple times before they broke up. Those shows fell at a time in my life where I finally had a car and could go to shows all by myself like a big girl, so there are all sorts of warm fuzzy feelings that I get thinking back on seeing Discount live. And this album always wakens those feeling when I listen to it.
Like I said, Discount were from Florida. They formed in 1995 and broke up in 2000. The singer, Alison Mosshart, went on to become VV, one half of The Kills. There was a period of time in the late 90's-early 2000's that Florida was a big deal and they were one of the bands that was worthy of the hype. Sauconys were big then, too. Remember that? And Alison was wearing a pair one time when I saw them.
Half Fiction
was released in 1997 and re-released in 1999. It was recorded by Steve Heritage who most notably recorded a whole mess of Hot Water Music albums, along with Coalesce and Reggie and the Full Effect. And if those names mean anything to you, then this album will definitely be in your ballpark.
This is the sound of being a big girl.
I'm not really sure which songs to single out here. Each one is as urgent as the last. Mosshart's rapidfire delivery is so atypical for a pop-punk band. Honestly, it's often too goofy for me, but her inflection is definitely in a class of it's own. It's as though the vocals are dancing in and out of the lead guitar lines. And on top of all this, each song is an anthem! This is start-to-finish great.
You can definitely find this over the internet but there are a couple links to mail order on their historical artifact of a website.